Signage elements like wall murals, privacy film and cut vinyl letters can add a visual touch to nearly any indoor space. Whether you're trying to attract customers, inspire employees or help guests with wayfinding, effective interior signage can make all the difference.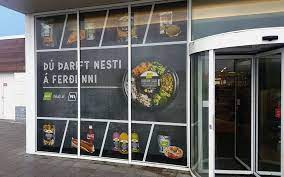 From directional signs to large format graphics, this B2B signage franchise resale offers it all.
Vinyl signs are an easy and cost-effective way to communicate information about products, services or events. They can also serve as branding elements that support and enhance your marketing goals and objectives.
Large vinyl graphics at Mello Signs are effective on almost any smooth surface and can display text or images. They are popular in the use of window displays, work vehicle graphics and sign panels.
Vinyl is available in a variety of weights, textures and finishes. Choosing the right product depends on your specific business needs and the type of signage you want to create.
Our team can help you determine the best placement, conceptualize and design an impactful sign for your location, produce a quality product, then deliver it to you with a quick turnaround. Then, we can install your new sign for a smooth and lasting finish. We can even create and install a wide range of other signage types, like dimensional letters for your building or a-frame signs for your storefront.
The best way to stand out from your competitors in a sea of brands is with one-of-a-kind signage solutions that match your brand's available space, specific requirements and branding strategies. These will help your company stand out from the crowd, fostering customer loyalty, repeat business and maximize profitability.
Whether you're looking to influence purchase behaviors, assist visually impaired customers or announce new product releases, vinyl signs will be your best marketing tool. They can be placed in a variety of interior spaces, matching the tone set by your exterior signage. Depending on their design, they can promote room services, accentuate your festive holiday decorations or showcase your business's history and achievements. For more privacy-conscious clients, you can also use window films that show your custom designs while partially concealing what passersby can see. This is perfect for salons, spas and more. The best part is, they're easy to install and remove when necessary. You can even reuse them on a regular basis.
Despite the moral panics and pop culture hysteria they cause, subliminal messaging does have a place in marketing. However, the impact of these messages is much more subtle than most people imagine.
One of the most famous examples of subliminal messaging is the Joe Camel mascot for Marlboro cigarettes. The nose on this character was clearly designed to resemble male anatomy in order to reinforce the macho image of the brand.
Other examples of subliminal messaging are found in the music and movies we enjoy. These subliminal stimuli are played below audible volumes or masked by other sounds, in order to avoid being conscious of them. The brain reacts to these subliminal cues, but they do not necessarily change behavior unless a person recognises them. Then they can act as a reminder to invest in a particular product or service. Savvy marketers know this and use it to great effect. Using vinyl banners with branding elements around your facility is one of the most effective ways to do this.
In addition to being incredibly affordable, vinyl graphics are an efficient way to communicate your brand message on-site and off-site. They can be placed in windows, on walls and floors to support your branding strategy, promote a specific product or service, help with wayfinding, motivate and inspire employees, as well as offer customer support.
If your graphics are only going to be viewed from one direction you can save more on printing costs by selecting a single-sided banner. This option prints the high-resolution print to a single side of the banner leaving the backside blank.
With a variety of sizes and finishing options available, we can create custom signage that meets your business's requirements. Contact us today to get started! We'll work with you to ensure that your custom signage delivers a great first impression, both at your location and at tradeshows and events. Regardless of the size of your business, we can help you stand out from competitors.